Queridos Asociados
Estamos muy orgullos de todo su esfuerzo y este se ve reflejado, tanto así que el día de hoy nuestro Kick Off 2017 fue cubierto por el Periódico Reforma y salimos en la primera plana de la sección de Empresas.
Gracias a todos los que formaron parte de este Gran evento, sin ustedes esto no sería posible, sigamos con la misión de transformar vidas
Este 2017 será el mejor año hasta ahora para Isagenix México.
#SomosIsagenix #Isagenix #KickOff2017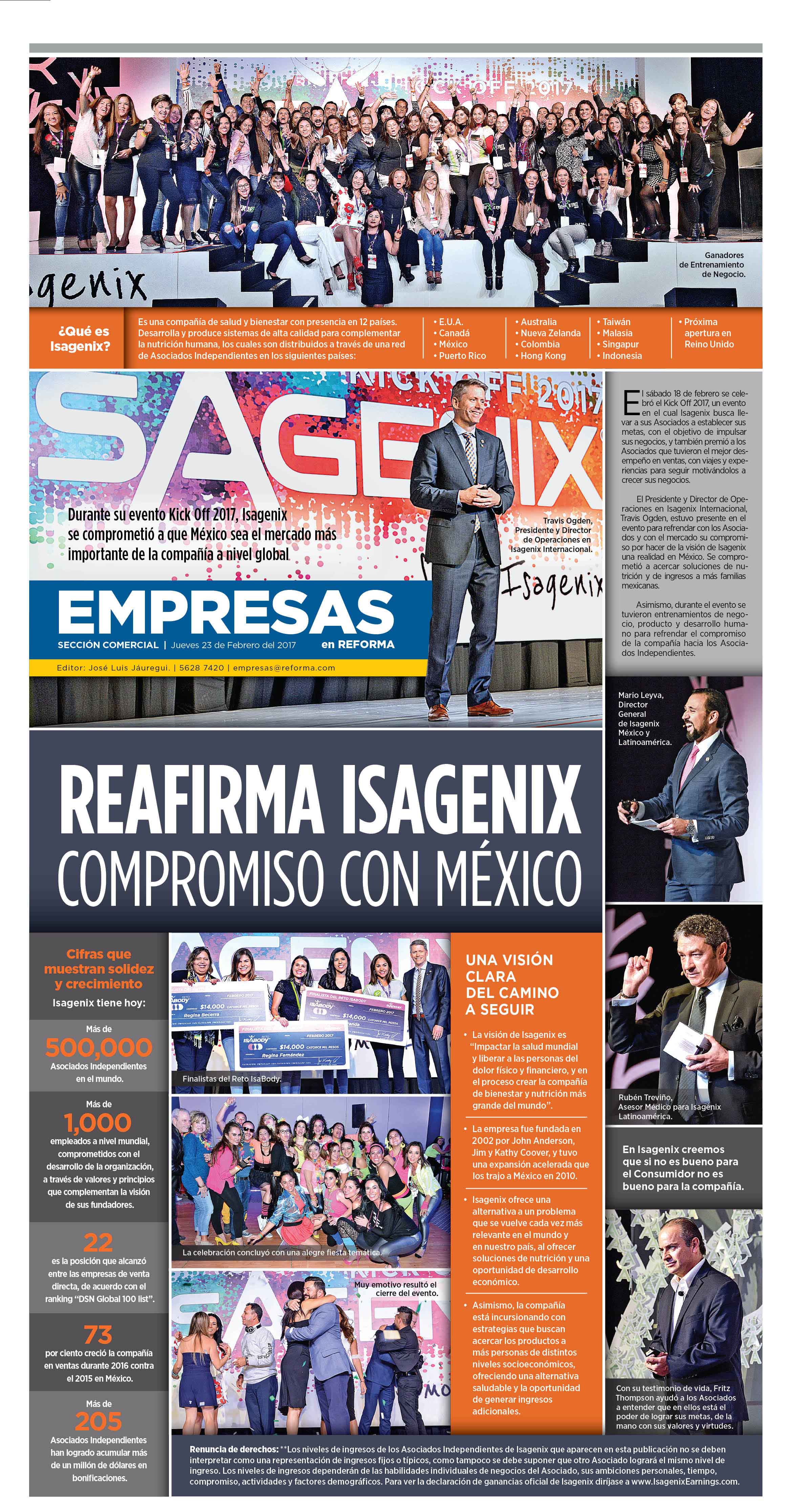 Translation in English
Isagenix is committed to make Mexico the most important market of the company globally.
At Isagenix we believe if it's not right for the Customers, it's not right for the company.
Isagenix is ​​a health and wellness company with presence in 12 countries developing and producing high quality systems to complement human nutrition. These products are distributed through a network of independent Associates in the USA, Canada, Mexico, Puerto Rico, Australia, New Zealand, Colombia, Hong Kong, Taiwan, Malaysia, Singapore, Indonesia and the next opening in the UK.
​​​​​​​"To impact world health and free people from physical and financial pain, and in the process create the largest health and Wellness Company in the world." Is company's vision-The company was founded in 2002 by John Anderson, Jim and Kathy Coover and opened offices in Mexico in 2010.
• The company has more than half a million customers worldwide.
• Isagenix has more than 1000 employees worldwide.
• The company reached the number 22 of companies of direct sale in the ranking "DSN Global 100 list"
• In Mexico, the company grew by 73% in 2016 against 2015.
• As of today, more than 205 Independent Associates, have been able to earn at least one million dollars through the Isagenix income.
Isagenix is ​​the right company because it offers a solution to a problem that becomes increasingly relevant in the world of nutrition issues and provide an opportunity for economic development.
In addition, the company is developing strategies that seek to bring products closer to all social economic levels, offering a healthy alternative and economic development.
Last weekend the Kick Off 2017 took place. It was an event in which the company seeks to bring its Associates to share their enthusiasm about Isagenix products, set their goals, and learn strategies for developing their business. Recognition for Associates who had the best performance in sales were rewarded with trip incentives to motivate them to grow their businesses.
The President and Chief Operating Officer at Isagenix International, Travis Ogden, accompanied us at the event, to endorse with partners and the market, his commitment to make Isagenix's vision a reality in Mexico, and promised to bring Isagenix's nutrition solutions and income opportunity to more Mexican families.
We had two business trainings to endorse the company's commitment to them.
The first with the coach of Jesus Gallego International, speaker and tool consultant who used neuro marketing to know and apply these skills and boost sales.
Fritz Thompson through his life testimony helped Associates to understand that in them is the power to achieve their goals, hand in hand with their values ​​and virtues.